Manhattan Cosmetic Dentist Dr. Michael J. Wei has completed his Core 2 training in "Aesthetic Reconstructive Dentistry" from the Las Vegas Institute of Dentistry (LVI Global). Dr. Wei has completed 24 hours of continuing education training and fulfilled the requirements prescribed by LVI Global for their "Core II: Orthotic Maintenance, Adjustment and Essential Aesthetic Reconstructive Techniques" course. http://www.lviglobal.com/CoreII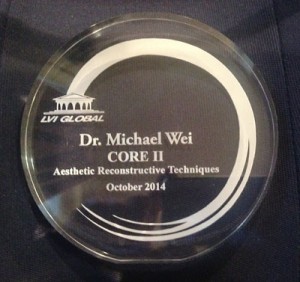 The LVI Global Advanced Functional Dentistry course included hands-on training on how to evaluate which cosmetic and restorative dentistry cases to treat and how to gain treatment acceptance from patients.
Objectives of this course included:
Discuss case treatment plans and options with their patient.
Determine appropriate occlusal care for the patient.
Develop a critical eye for aesthetic restorations.
Discuss the need for a patient centered practice.
Discuss soft tissue recontouring planning principles.
Utilize instant orthodontics.
Develop a good plan for the aesthetic based practice.
Completion of this course has allowed Dr. Wei to become a more confident restorative dentist and deliver beautiful smiles. Completing this cosmetic dentistry program and receiving the award and certificate has raised Dr. Wei to a higher-level as one of New York City's top cosmetic dentists.
"I have enjoyed this course tremendously. It has given me more knowledge and insight about how to help my patients achieve a healthy beautiful smile," stated Dr. Michael J. Wei.  "My mission is to provide top quality cosmetic and restorative dentistry in a friendly and comfortable environment. I want everyone to have healthy teeth and gums and an attractive smile for a lifetime. I am committed to providing excellence and to improving the health of my patients without any compromise. I want the best because my patients deserve the best. "
About Dr. Michael J. Wei – Manhattan New York City Cosmetic Dentist
Manhattan New York City dentist Dr. Michael J. Wei is one of  NYC's best dentists specializing in general, cosmetic and restorative dentistry including smile makeovers, invisalign braces, dental implants, porcelain dental crowns, porcelain veneers and more. Call 212-982-4080 for your free consultation or appointment. http://www.MyManhattanCosmeticDentist.com