Embarrassed to Smile Due to Damaged Teeth? Repair Your Smile with Porcelain Veneers
By Dr. Michael J. Wei, DDS – Manhattan New York City
Cosmetic Dentist
Repair Your Smile with Porcelain Veneers
Do your teeth have embarrassing chips, gaps, stains or misalignment? Now you can "renew" your teeth for an attractive smile that will make you want to show the world with Porcelain Veneers.
Some of the most common cosmetic and functional dental imperfections can be significantly improved with porcelain dental veneers. Stains, gaps, chips, and even teeth misalignment are all issues that can be corrected with porcelain veneers. Custom-designed to cover only the visible part of the affected teeth, porcelain veneers are wafer-thin, like a contact lens.
Porcelain dental veneers can completely transform the look of your teeth for a beautiful smile makeover. Our experienced cosmetic dentist, Dr. Michael Wei offer porcelain veneers as an innovative solution to treat number of dental issues that can affect self-confidence, including chips, gaps, discoloration and misalignment. Made up of thin shells of ceramic material, porcelain veneers are custom-designed to look and feel like your natural teeth. This virtually painless procedure can help you achieve long-lasting results and significantly enhance the appearance of your smile.
Benefits of Porcelain Veneers
Porcelain veneers can provide a number of benefits for your smile and self-confidence. Advantages of porcelain veneers include:
Improved function of the teeth to correct problems such as TMJ and occlusion (bite)
Improved appearance of chipped, fractured, stained, uneven and worn teeth
Aesthetically pleasing appearance
Protected tooth structure
Custom-designed to match your natural teeth
Highly resistant to staining and discoloration (more than natural teeth)
Minimal pain or discomfort
Can be used to strengthen weakened or cracked teeth
Can be used to whiten even the darkest teeth that resist traditional whitening methods
Improves teeth affected by chips, gaps, misalignment, stains and discoloration
How Porcelain Veneers Work:
If you have gapped, chipped, stained or misaligned teeth, you can get them repaired for a complete "Smile Makeover" with porcelain veneers. Each porcelain veneer is designed to complement your smile, and improve your appearance by providing you with a dazzling white smile almost "overnight."
"Porcelain tooth veneers" are thin shells of handcrafted dental porcelain that are fitted over front teeth to repair smiles and bites. The porcelain veneer treatment usually involves just two visits and is completely painless:
First, Dr. Wei examines your teeth and considers your existing dentition and bite, as well as your skin tone, features, length of your teeth, facial structure and face shape. During your first visit,  many times he will take impressions for a diagnostic wax-up. This is used as a blueprint for your final smile – something you can visualize.  The next visit, the teeth are prepared by removing a small portion of enamel to allow for the thickness of the veneers and to ensure a strong seal. An impression is then taken and prepared to send to the lab where the porcelain dental veneers will be created. Then  a trial smile (temporary veneers) will be made to give you a "test drive" of your new smile.  At this time, Dr. Wei can make changes to your smile before the permanent veneers are bonded to the teeth. Your new porcelain dental veneers are usually returned to our office within two weeks.
The second visit is when the temporary veneers are removed and the new porcelain veneers are placed on the teeth.  Porcelain dental veneers provide a strong, safe, and durable solution to stained, cracked or crooked teeth. 
Before & After
Case 1
Marcella's old smile did not fit her vibrant personality. She always disliked her prominent canines. Her new smile improved her overall self-confidence. She now loves to smile and is happy to take pictures. We were able to give her the smile of her dreams. She said she did not realize how much her old smile had been holding her back. Now she gets compliments on her beautiful smile all the time!
Problems
Misalignment of Teeth
Prominent Canines
Bad Bite
Cavities
Stained Teeth
Solutions
6 Porcelain Veneers
4 Porcelain Crowns
Tooth-Colored Fillings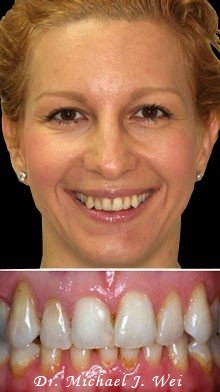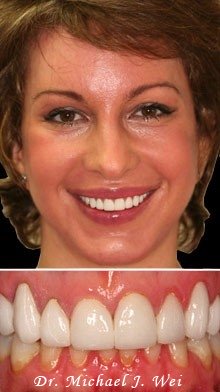 Slide the blue tab to the left or right to view the before and after images.
Case 8
Mary was concerned about how her smile looked and felt it affected her performance. She had  always been hestitant to smile.  She complained that her two front teeth are discolored, dark, too big, not porportional to her smile. She wanted  a more natural, whiter, and brighter smile. By using 5 porcelain veneers and 1 porcelain crown, we were able to create a healthy and beautiful smile that Mary always wanted. Her brand new smile increased her self confidence.
Problems
Old Dark Bonding
Old Discolored Dark Porcelain Crown
2 Oversized Teeth
Not Porportional Teeth
Solutions
5 Porcelain Veneers
1 Porcelain Crown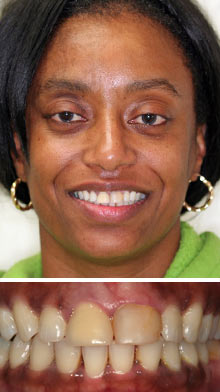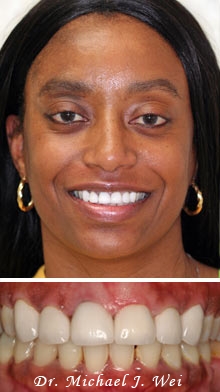 Slide the blue tab to the left or right to view the before and after images.
Call us today at
212-982-4080

for a Free Consultation, Appointment, or for more information about our Porcelain Veneers or Manhattan and New York City Cosmetic Dentistry Services

Find out why our patients love us. See what our happy patients have to say about our quality dental services and personalized dental care. Read our reviews online at Google, Yelp, Citysearch, Insiderpages, SmileReminder, Facebook, and MyNYCCosmeticDenitst.
Why Choose Dr. Wei?
A Proven Dentist – Dr. Wei is one of Manhattan's top cosmetic dentists. Dr. Wei's cosmetic dentistry includes world-class laboratory support from the best labs in the world. Dr.Wei is the recipient of numerous awards and accolades.
High Success Rate – Dr. Wei has over 15 years of experience with dental services. Plus, Dr. Wei stands behind his work with a warranty.
Delivery Excellent Results – Dr. Wei has first class technicians and world-class laboratory support. Dr. Wei works very closely with his master dental technicians to ensure you get the best results. Dr. Wei offers the very best quality dental care available.
Easy Financing Available with No Financial Surprises – All financial arrangements are done at our dental office and there will no surprises that cost you more. No hidden costs and no additions after your treatment plan is confirmed and treatment begins.
Fully Warranted – – Dr. Wei will take care of any issues from start to finish. On the rare occasion that a problem should occur, Dr. Wei will fix the problem promptly with no additional fees.
There is usually a follow-up visit for final adjustments, and to review instructions for care of your new smile. Cosmetic dentistry provides a beautiful new smile and last for years and years.
Call us for an appointment:
212-982-4080