Get a Gorgeous New Look with a Cosmetic "Smile Makeover"
By Dr. Michael J. Wei, DDS – Manhattan New York City Cosmetic Dentist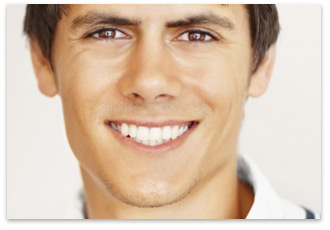 Get a "Perfect Smile" with Smile Makeover dentistry
Do you have damaged teeth that make it embarrassing to smile? Do you want a brighter, whiter more attractive smile that makes you look and feel great?
Now you can get a beautiful new smile with perfect bright, white teeth that will get you noticed with "Smile Makeover" dentistry by Dr. Wei – Manhattan Cosmetic Dentist.
How Smile Makeover Dentistry Works:
Initial Consultation – During your first visit you will receive an initial consultation to discover the goals you have for your new smile. Then Dr. Wei will provide you with a comprehensive oral exam to determine what dental treatments will provide you with the smile you desire. Dr. Wei may first begin by recommending restorative treatments to correct oral health problems and repair your smile if needed. After you and Dr. Wei have determined and agreed on the right course of action, our dental team will help you with scheduling that is convenient for you and affordable and easy payment arrangements. We make the entire smile makeover process convenient and easy for you.
Restorative and Cosmetic Dentistry – After your teeth and gums are healthy, then you can begin your "Smile Makeover" and get the smile you've always wanted with aesthetic restorative, cosmetic, and/or prosthetic dental procedures. This may include porcelain veneers, tooth-colored fillings and porcelain crowns, and/or replacement teeth, like dental implants.
Teeth Whitening – Finally, you can make your smile up to 10 shades whiter for a dazzling new smile with Rembrandt Sapphire teeth whitening and other popular cosmetic dental procedures.
Before & After
Case 1
Marcella's old smile did not fit her vibrant personality. She always disliked her prominent canines. Her new smile improved her overall self-confidence. She now loves to smile and is happy to take pictures. We were able to give her the smile of her dreams. She said she did not realize how much her old smile had been holding her back. Now she gets compliments on her beautiful smile all the time!
Problems
Misalignment of Teeth
Prominent Canines
Bad Bite
Cavities
Stained Teeth
Solutions
6 Porcelain Veneers
4 Porcelain Crowns
Tooth-Colored Fillings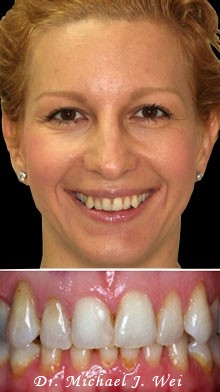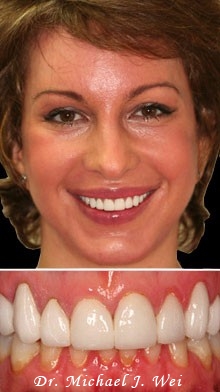 Slide the blue tab to the left or right to view the before and after images.
Case 3
Daniel was concerned about the health of his teeth and uneven smile. He wanted a brand new smile because he had stained dark teeth and old crowns showed a dark line at the gums. We were able to give him the straight, bright, and white smile he wanted.
Problems
Stained Dark Teeth
Uneven Smile
Worn-Out Smile
Old Porcelain Crowns
Old Silver Mercury Fillings
Cavities
Solutions
8 Porcelain Veneers
2 Porcelain Crowns
Tooth-Colored Fillings
Teeth Whitening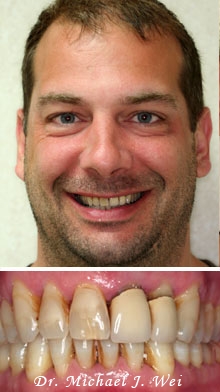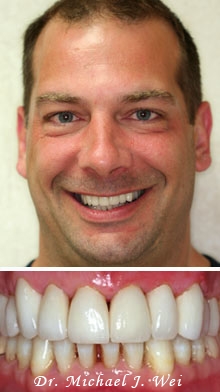 Slide the blue tab to the left or right to view the before and after images.
Call us today at
212-982-4080

for a Free Consultation, Appointment, or for more information about our Smile Makeovers or Manhattan and New York City Cosmetic Dentistry Services

Find out why our patients love us. See what our happy patients have to say about our quality dental services and personalized dental care. Read our reviews online at Google, Yelp, Citysearch, Insiderpages, SmileReminder, Facebook, and MyNYCCosmeticDenitst.
Why Choose Dr. Wei?
A Proven Dentist – Dr. Wei is one of Manhattan's top cosmetic dentists. Dr. Wei's cosmetic dentistry includes world-class laboratory support from the best labs in the world. Dr.Wei is the recipient of numerous awards and accolades.
High Success Rate – Dr. Wei has over 15 years of experience with dental services. Plus, Dr. Wei stands behind his work with a warranty.
Delivery Excellent Results – Dr. Wei has first class technicians and world-class laboratory support. Dr. Wei works very closely with his master dental technicians to ensure you get the best results. Dr. Wei offers the very best quality dental care available.
Easy Financing Available with No Financial Surprises – All financial arrangements are done at our dental office and there will no surprises that cost you more. No hidden costs and no additions after your treatment plan is confirmed and treatment begins.
Fully Warranted – – Dr. Wei will take care of any issues from start to finish. On the rare occasion that a problem should occur, Dr. Wei will fix the problem promptly with no additional fees.
There is usually a follow-up visit for final adjustments, and to review instructions for care of your new smile. Cosmetic dentistry provides a beautiful new smile and last for years and years.
Call us for an appointment:
212-982-4080